2022.08
Team Building through Shodo Calligraphy at Tsukiji Hongwanji, One of Tokyo's Largest Temples
E-commerce company A
Feeling the Japanese Spirit at Tsukiji Hongwanji, a Temple with Over 400 Years of History
We organized a shodo (Japanese calligraphy) experience for 12 employees of a large e-commerce company for them to see how this traditional art brings out the beauty of written words.

Five participants of this experience were executives based in the company's international offices, and the seven Japanese participants were based in different locations as well.

As the international executives' visit would be the first time for several members of this group to meet in person, the company, expecting further growth and collaboration opportunities, requested a team-building experience. With the company requesting an experience and a venue that felt Japanese, we decided to hold for them a shodo experience at Tsukiji Hongwanji, a large temple in Tokyo with over 400 years' worth of history.

In addition to having each participant write a kanji character, everyone also had to choose a kanji character as a group and write it together to strengthen their teamwork.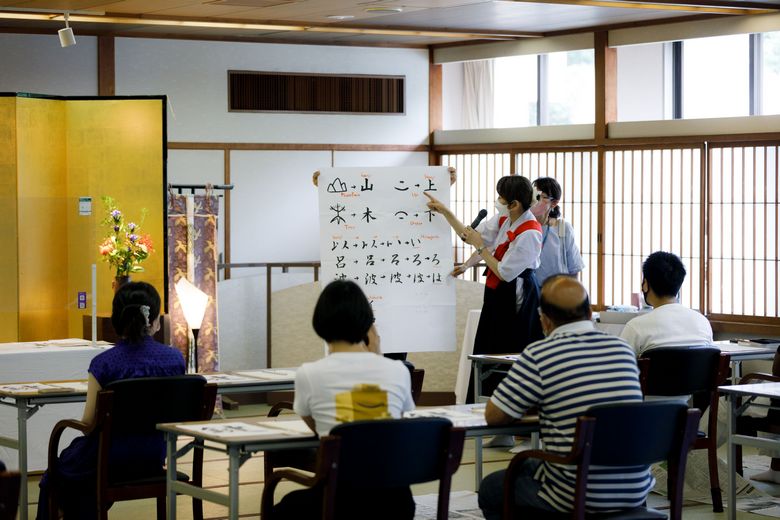 The instructor introducing pictographs to participants in English
An Informative Temple Tour that Stoked Participants' Curiosity
A Calligraphy Experience that Fostered Team Spirit
The venue we selected was Tsukiji Hongwanji. Located near the famous Tsukiji Fish Market, Tsukiji Hongwanji is a Jodo Shinshu temple founded in 1617.

Before the calligraphy experience, participants were given a tour of the temple. All participants showed an interest in the Tsukiji area's history and architecture, so they were fascinated by Hongwanji's main hall — a National Important Cultural Property due to its historical and cultural significance, as well as its use of ancient Asian Buddhist architecture — and pipe organ made of 2,000 pipes.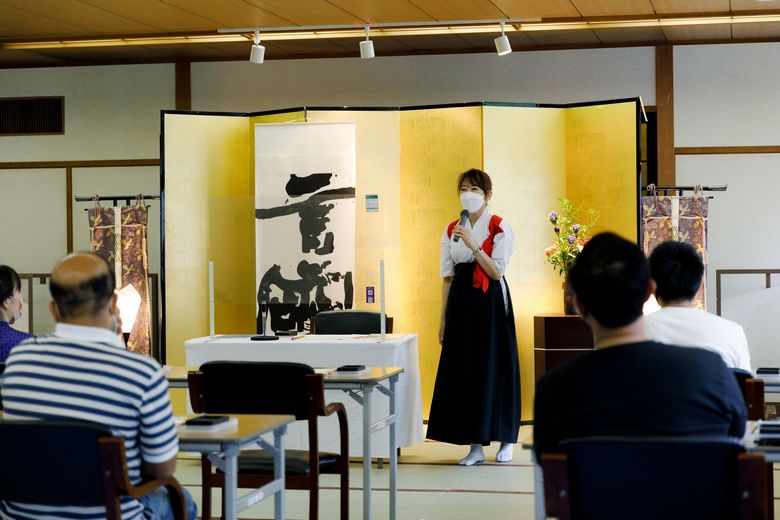 We invited a calligrapher who has held exhibitions in Japan and overseas to be the instructor for this experience.
Then, to kick off the calligraphy experience, the English-speaking instructor introduced participants to the Japanese writing system and its three alphabets: hiragana, katakana, and kanji.

Since our guests for the day worked in data encryption and handled keys for digital signatures, we began the practice session by having them write the hiragana, katakana, and kanji for "key": "かぎ," "カギ," and "鍵," respectively. Our non-Japanese participants were very engaged during the explanation session and the activity itself, while our Japanese participants appeared to be enjoying their first calligraphy experience in ages.
Even though it was the first time for some to try calligraphy, participants made skillful use of their brushes.
Once participants became more comfortable handling their brush, we set aside some more time for them to practice writing. For non-Japanese participants, we came up with kanji corresponding to their names. Meanwhile, Japanese participants wrote their names or other characters as they liked. Everyone seemed to be having fun writing, and when practice time was over, participants were asked to write a character of their liking on an uchiwa fan.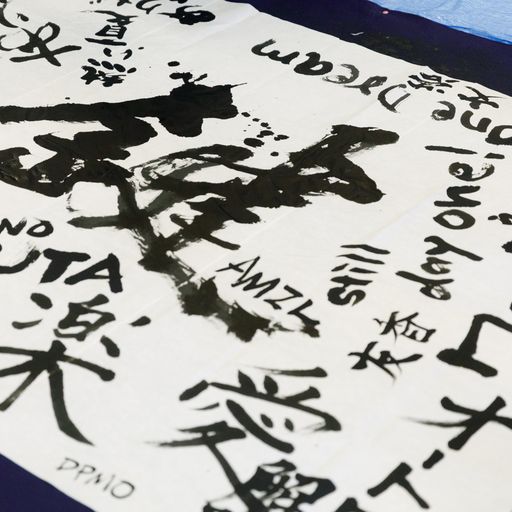 Each participant wrote a word that came to mind on paper, creating a unique artwork of their own.
Aside from having participants try calligraphy individually, we also had them create a work of art as a group, as this was, after all, a team-building session. At the center of a large sheet of paper, the instructor wrote the kanji character "鍵" (key); then, participants gradually added more words to fill up the space.

With participants eagerly adding to the group calligraphy work in their own unique handwriting, it felt as if the group had known each other for a while instead of having just met face-to-face for the first time!
Promoting Communication through the Art of Writing
Our client requested an experience that would promote bonding among colleagues of different nationalities — many of whom had not met one another in person — and we were more than happy to deliver. After all, we at Wabunka Experiences specialize in tailor-made experiences that satisfy our clients' needs, and we know how to create the right ambiance in line with a client's wishes.

With participants not only writing the Japanese word for "key" — a term associated with the client's line of business — in different ways, but also coming up with a collage-like calligraphy work filled with words, there was a sense of oneness that could be observed within the group.

What's more, the calligraphy instructor also shared plenty of fascinating information about Japanese words, appealing to participants' sense of curiosity and wonder.

A participant remarked, "One of my personal highlights was the Japanese calligraphy class we attended at Tsukiji Hongwanji — a Buddhist temple which has been there since the year 1679 [sic]. It was a great team building experience plus a chance for all of us to learn a new skill."

Clearly, our guests for the day found their time spent trying calligraphy at Tsukiji Hongwanji worthwhile.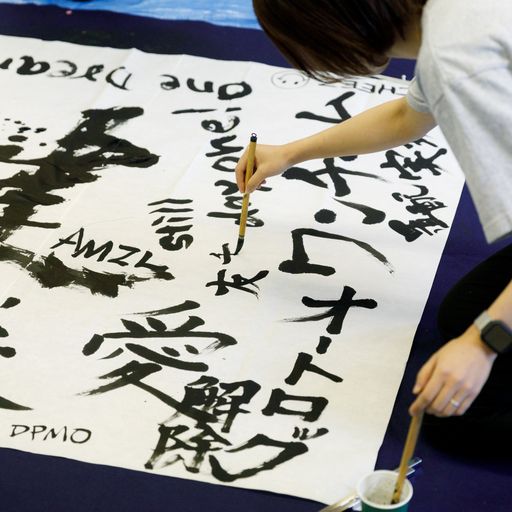 The team spirit was strong as the group's masterpiece neared completion.
We can suggest the best location for you based on your needs, number of people, budget, and cultural experience. Please contact us for more details.