2022.11
Chopsticks-Making Experience at an Old-School District in Tokyo
Global foodstuffs manufacturer J
Experiencing Japanese Culture and World-class Craftsmanship in a Day
We organized this activity for employees of a foodstuffs manufacturer who were visiting Japan for an offsite meeting. On the first day of their meeting, they experienced chambara sword fighting and shodo calligraphy. This chopsticks-making experience was held on the second day of their meeting.

In response to the client's request for employees to experience monozukuri (Japanese craftsmanship), we decided on a chopstick-making experience after considering various other options. This is because many non-Japanese are interested in chopsticks, and they make for ideal souvenirs to take home.

We chose to hold the experience in Okachimachi, as it is a district in Tokyo with an old-school atmosphere, where many small, long-running factories still remain.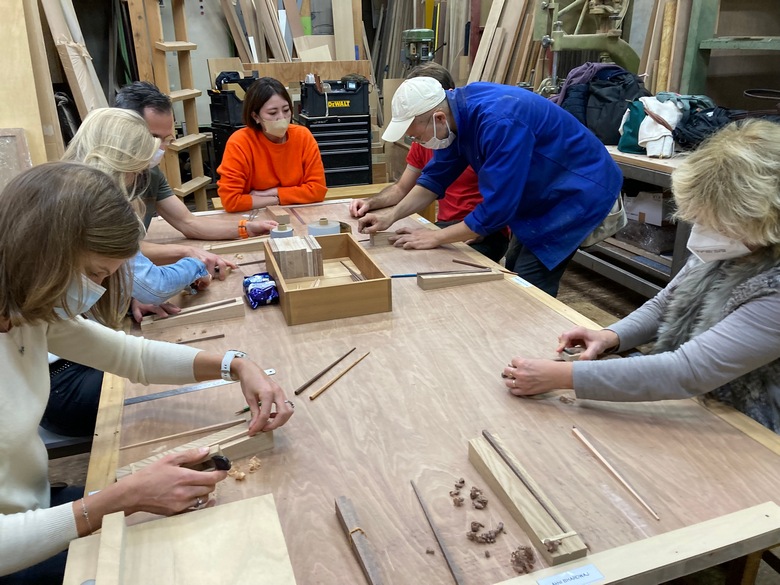 An authentic Japanese craftsmanship experience at a workshop equipped with professional-grade machinery and tools
Working with Planes and Other Woodworking Tools under an Artisan's Guidance
About 20 people, most of whom were non-Japanese, showed up for this activity. For everyone to get the most out of the experience, the team was divided into two groups of 10 people each, with both groups taking turns to experience different stages of the activity.

First, the instructor, a furniture craftsman, explained the chopsticks-making process and showed participants how to shave wood with a tool called a hand plane.

When the interpreter translated the instructor's words to English, mentioning details such as the types of wood used and tools specific to woodworking, our guests showed amazement and considerable interest, saying things such as "It's my first time seeing something like this!"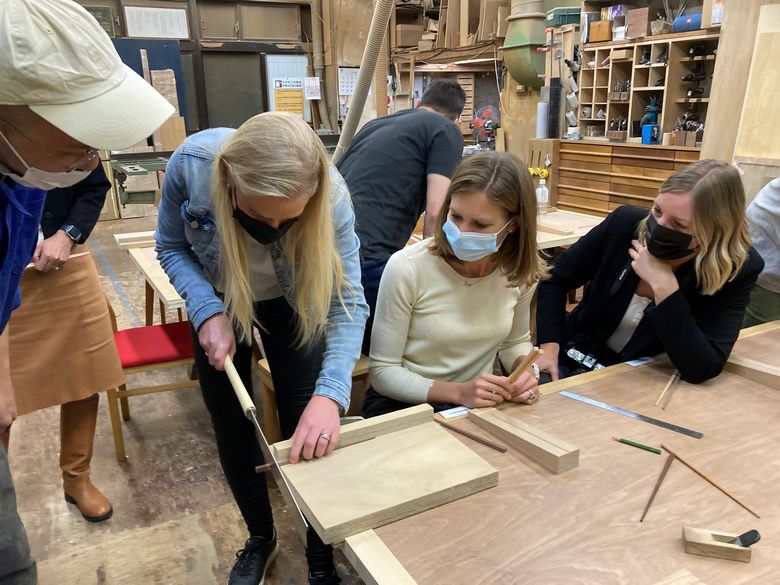 Sawing wood with the guidance of a craftsman
Chopsticks are made from remnants of wood used for furniture making. The chopsticks-making process begins by choosing the type of wood, then measuring the length of one's own hand to determine the length of the chopsticks. The next step is to select the desired shape for the chopsticks: square or octagonal.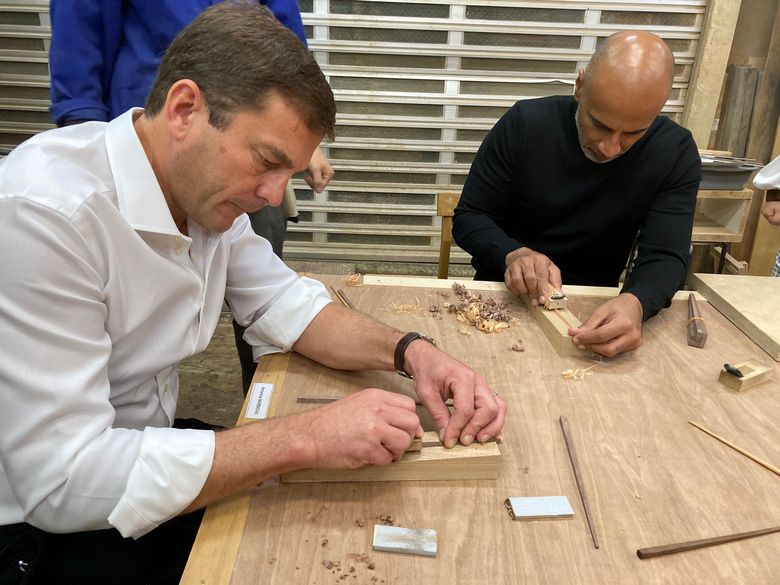 Shaving wood with a hand plane takes patience
Another thing to decide on is how thin the chopsticks should be. Once everything has been decided, it's time to get to work by shaving a rectangular piece of wood with a plane.

As it was the first time for some guests to use a woodworking plane, they initially seemed confused. But as they became more accustomed to it and got the hang of things, they began to quietly and intently shave wood to create their own chopsticks of their desired length, width, grip, and shape.

When participants were done, they smoothed the surface of their chopsticks then applied natural oil as a finish. Through those steps, under the guidance of a craftsman, each participant managed to create chopsticks of their very own.
Handmade Personalized Chopsticks as a Memory of Time Spent with Colleagues
All participants were skillful with their hands, so they were able to create chopsticks of fine quality. Their one-of-a-kind chopsticks served as a memory of the wonderful time they spent in Japan with their colleagues.

After the activity, we took the team to 2k540 Aki-Oka Artisan, a row of arts and crafts shops spanning the 2.54-kilometer length underpass linking Okachimachi and Akihabara Stations. There, our guests admired the top-notch craftsmanship behind the creations on display and shopped for souvenirs.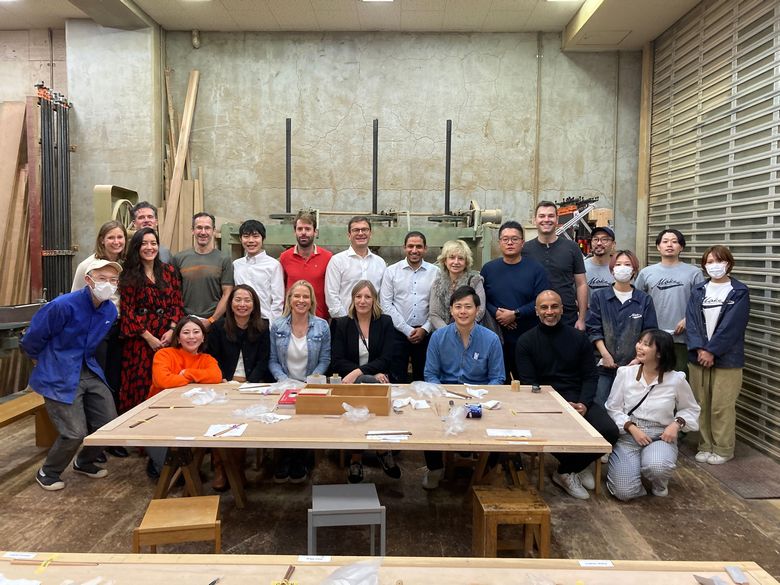 A day of up-close, hands-on learning about Japanese craftsmanship
We can suggest the best location for you based on your needs, number of people, budget, and cultural experience. Please contact us for more details.