2022.11
Challenging the Mind and Body through Sword Fighting as Team Building
Global foodstuffs manufacturer J
A Sword Fight as an Icebreaker
A diverse global team employed by a foodstuffs manufacturer gathered in Japan for an offsite meeting. As most of the team had not met one another in person previously, our client requested a physical activity that would strengthen ties among colleagues. This would be part of the team's morning schedule on the first day of their meeting.

Wanting our guests to have a fun, lively time, we chose a samurai-and-ninja-themed chambara (sword fighting) battle for the team-building activity, as these are aspects of Japanese culture that many non-Japanese are familiar with.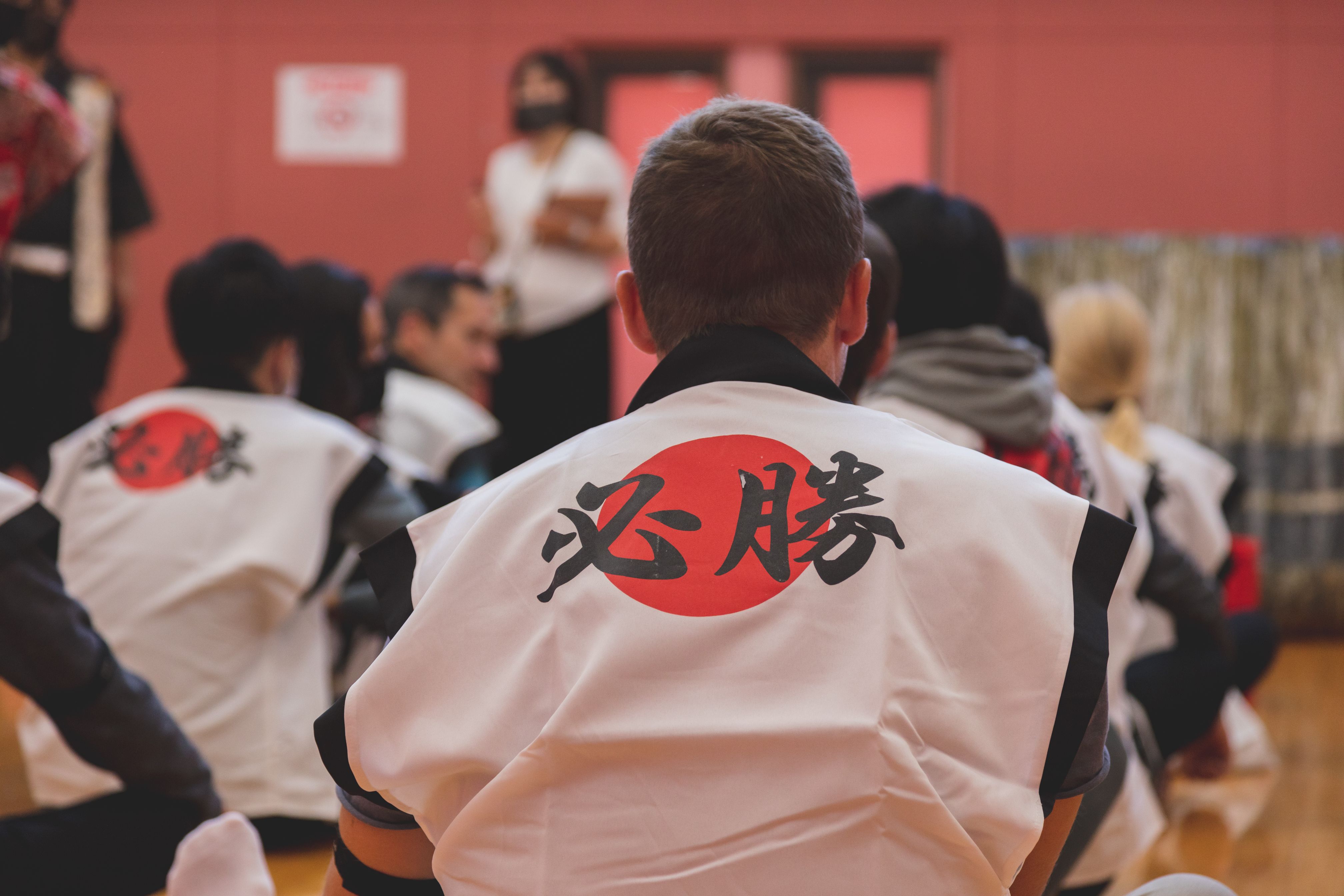 After participants put on their happi coats, the challenge began.
Victory as a Team; Camaraderie Through Sword Fighting
First thing in the morning, not more than 30 participants gathered at the venue — a sports facility — for a chambara sword-fighting battle. Played among large groups, this type of game involves participants battling one another with foam swords. Attached to each participant's arm is a ball representing their "life." A participant whose ball is hit loses their "life" and is thus no longer part of the battle.

Before the game began, the facilitator and staff explained these rules in Japanese and English, as well as demonstrated the game. Participants were then divided into red and blue teams. After putting on their happi coats, they went on to play three rounds.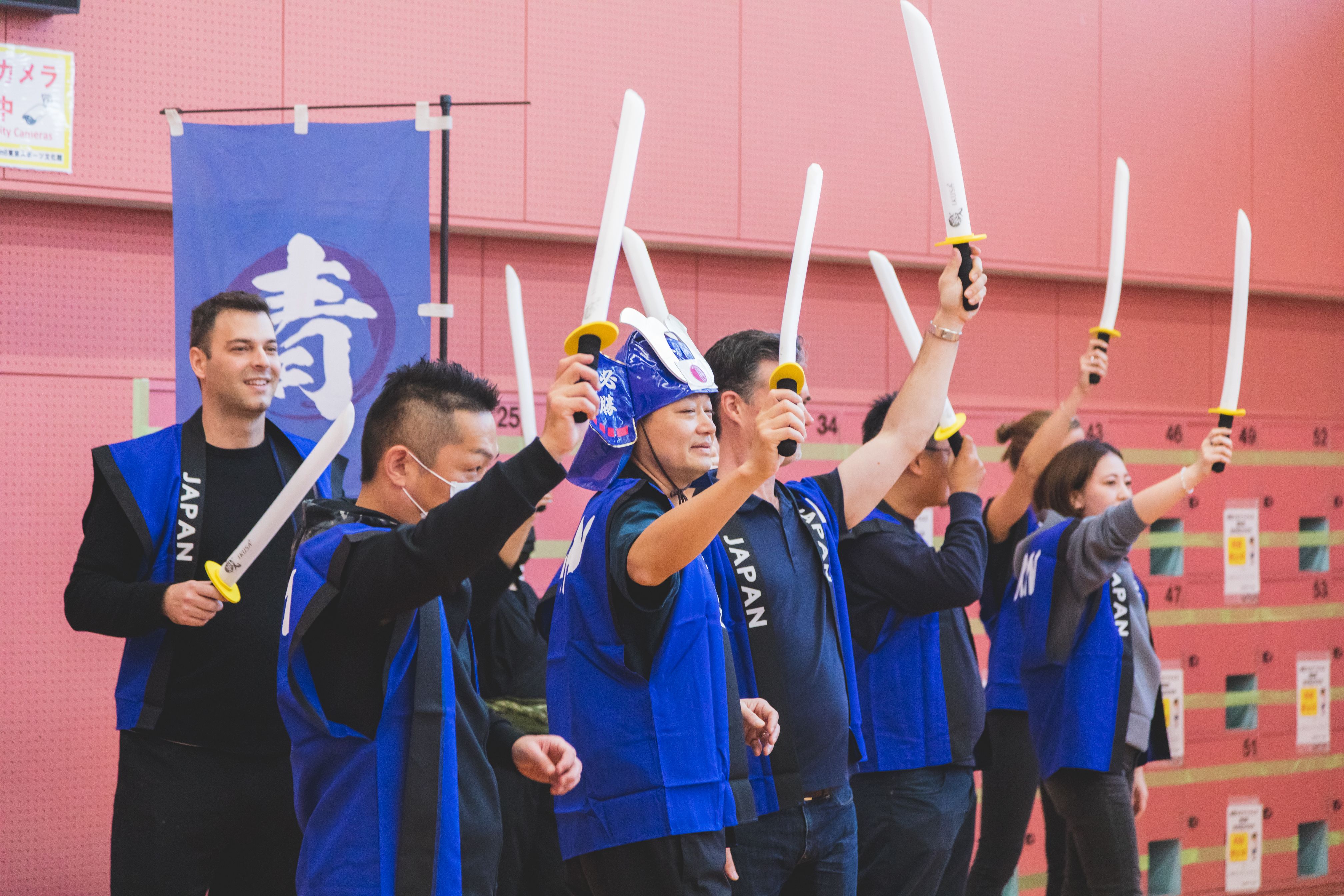 Deciding on a strategy as a team, then raiding the enemy
Once participants understood the rules, each team began to discuss their tactics as if they were plotting at a military council. When all teams had decided on a strategy, the battle began. Participants went all-out attempting to hit the balls on opponents' arms until all members of an opposing team were wiped out.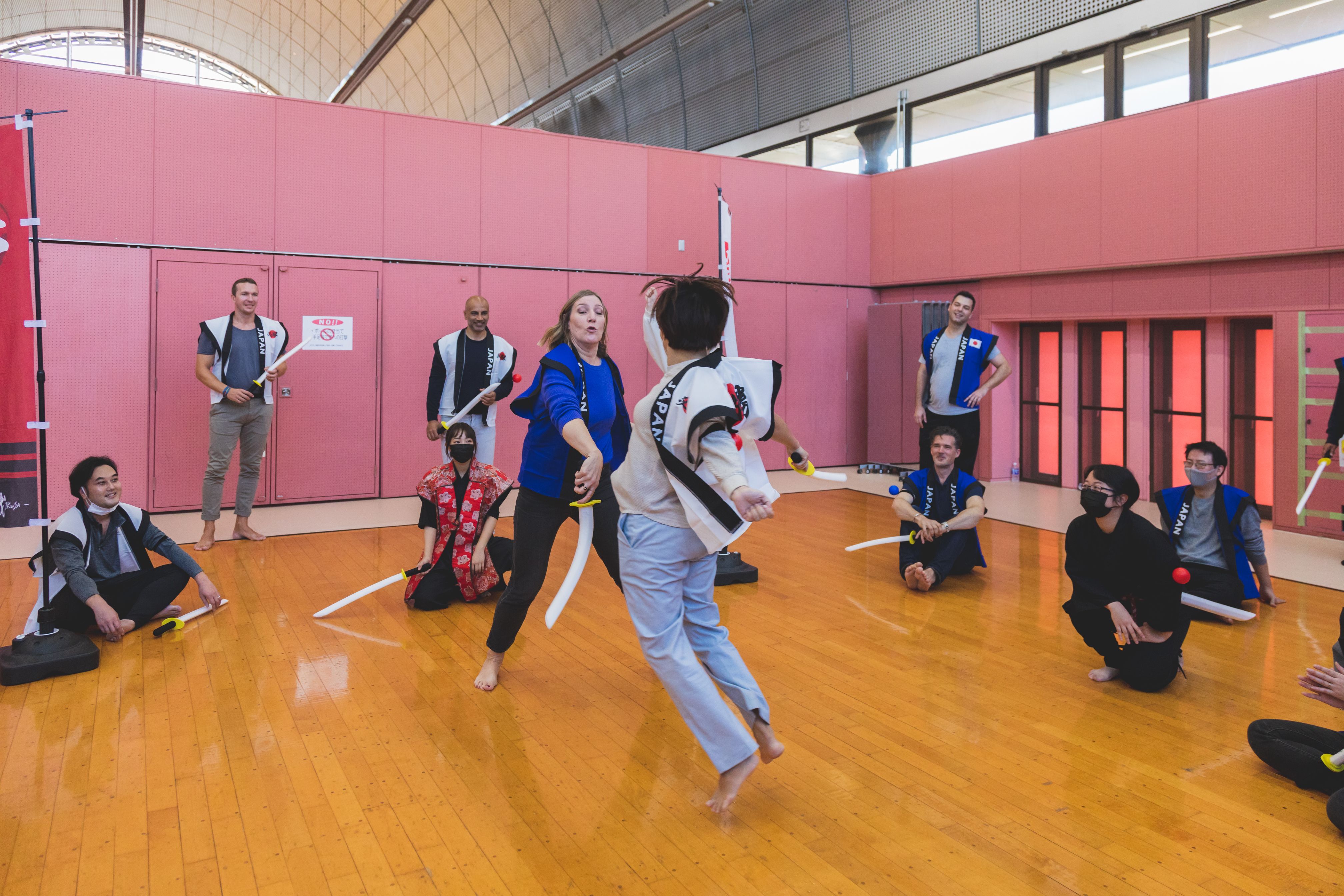 With participants aiming for victory, an intense battle unfolded
Then came the battle of the captains. Each captain had three balls attached to them, and the last one standing with all three balls still attached would be the winner. More intense than the regular battle, this round entailed a balance of offense and defense to win, which made this battle to the death exciting for captains and spectators alike.

Despite this activity being held early in the morning, participants were all in high spirits, and their energy and enthusiasm remained high throughout the entire experience.
Overcoming Barriers Such as Language, Age, and Gender
Following the moderator's cue to "Let the battle begin!," all participants yelled out a fierce battle cry in response, as they began to decimate enemy teams. With such a simple rule of hitting the opponent's ball with a foam sword, the appeal of this game transcends various barriers such as language, age, and gender.

Additionally, as it involves not only getting the body moving, but also discussing a strategy as a team, chambara is a good challenge for the body and mind and an ideal team-building activity. Having experienced a sense of exhilaration and fun that isn't as easily encountered in daily adult life, the team not only had a good time, but also were able to strengthen their camaraderie.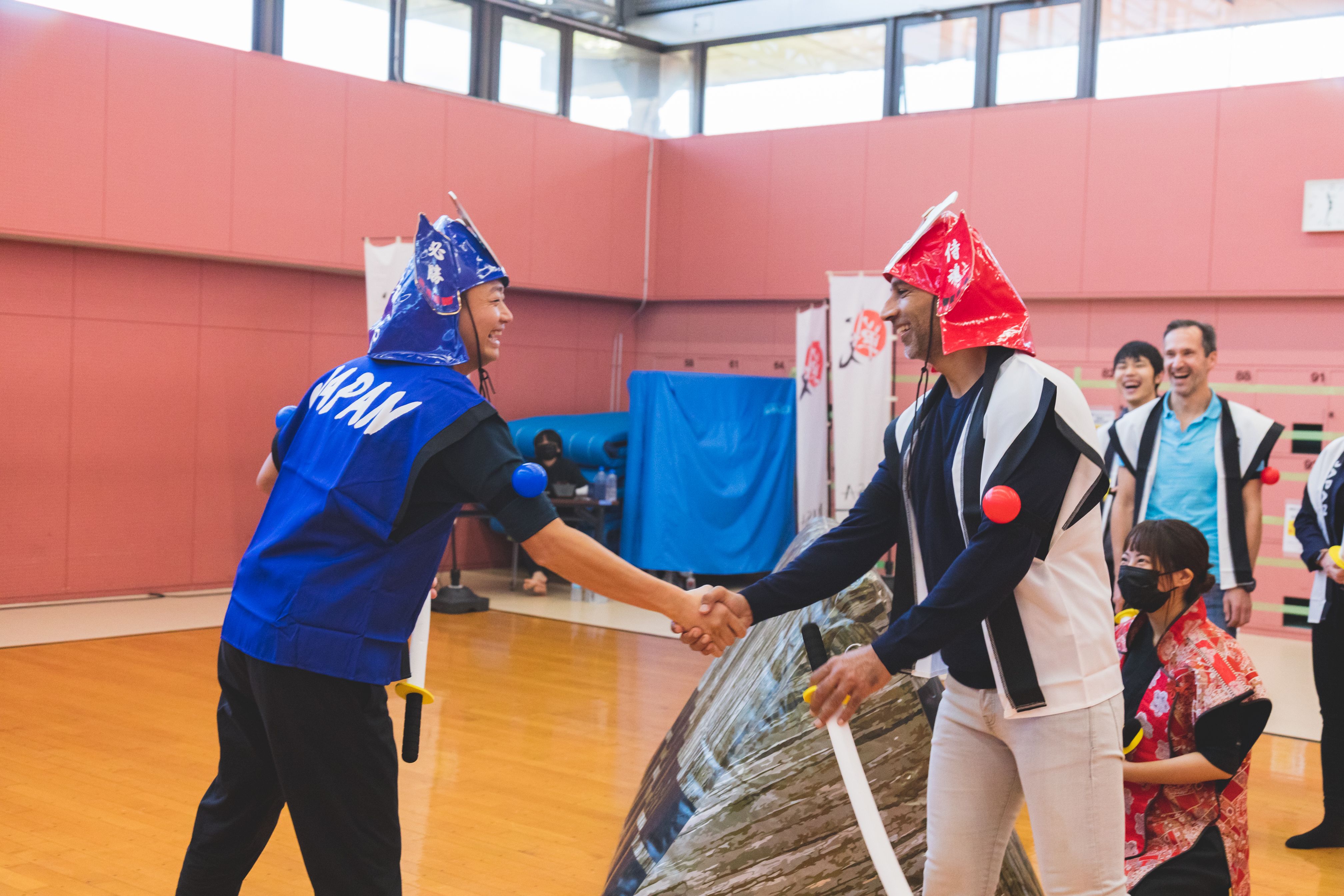 Strengthening bonds while having fun on a team-building session
We can suggest the best location for you based on your needs, number of people, budget, and cultural experience. Please contact us for more details.