2022.11
A tuna carving show and a sushi preparation experience make for an unforgettable party
Global Foods Company J
Team building and Japanese cuisine under the neon Ginza night
Employees of a global food products company meet up in Japan for an offsite meeting. In the morning they enjoy a swordplay experience, and in the afternoon, calligraphy. Their dinner venue is a private restaurant in Ginza with 270 degrees of plate glass windows overlooking a gorgeous view of Tokyo. Because Tsukiji fish market is famous for tuna, there have been requests for tuna carving demonstrations and Japanese food catering. This plan rolls them together into one complete experience.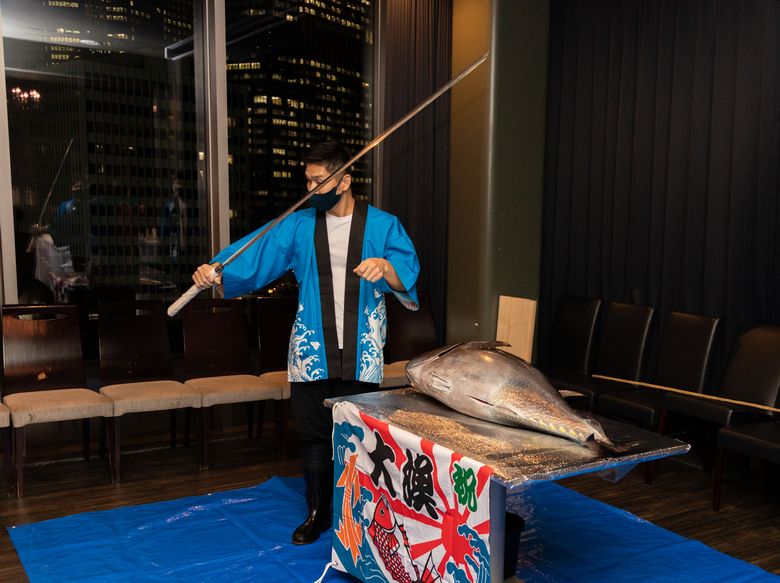 Tuna carving show by a professional
Unparalleled impact: tuna carving followed by sushi preparation
With the impressive night view as backdrop, a private dinner party begins with a tuna carving conducted by a Tsukiji tuna butcher using a fish weighing in at 40kg. The guests start off with a commemorative photo alongside the huge butcher's knife – you could be forgiven for calling it a sword. Next, the butcher goes to work, with each movement of his hands projected onto a screen for ease of viewing and complete with narration. Because many of the guests are foreign, an interpreter helped provide timely English explanations alongside the Japanese commentary.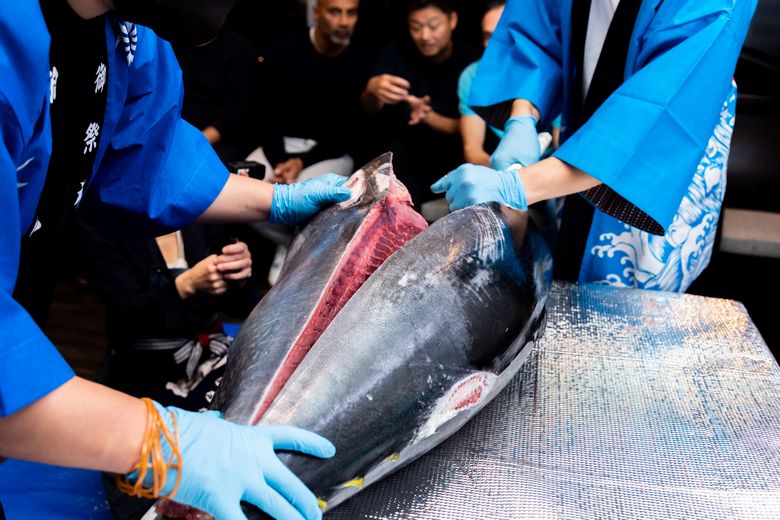 English commentary helps guests follow the process.
Eating sushi fresh from the butcher's blade is another part of the appeal. A master sushi chef offers an entertaining demonstration and instruction on preparing sushi, complete with a few well-placed jokes. It should go without saying that the flavor of freshly-butchered tuna sushi is unparalleled, but the difference in look and mouthfeel between the sushi made by the chef and the sushi made by the guests is noticeable – and many guests enjoyed comparing them side-by-side. Since there was so much tuna, the guests also enjoyed some sashimi.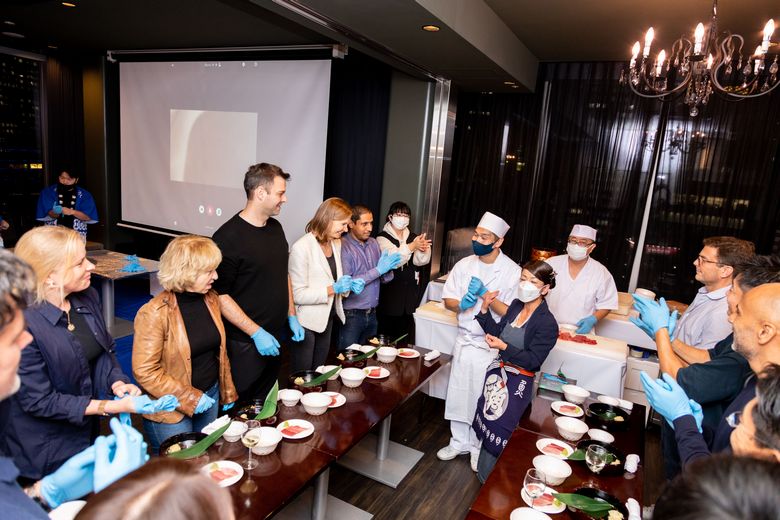 Fresh tuna, butchered to be enjoyed on the spot
The main course is a catered dinner provided by world-class Tokyo restaurant Shirogane Yokoyama. The Kyoto-trained chef is a master of authentic traditional Japanese cuisine using seasonal ingredients, and high-quality crab, eel, abalone – to name a few – proved real crowd pleasers.
Lifetime memories: An unparalleled show and surprise birthday party
Wabunka's experiences are all about authenticity, right down to the catering, so guests can bond over unrivaled cuisine and sake. The tuna carving proves a hit, not only for the spectacle but also for the fresh sushi-making experience. As it happens, one of the guests in the group is actually celebrating a birthday, so a surprise cake is provided and the team camaraderie is deepened by singing Happy Birthday together.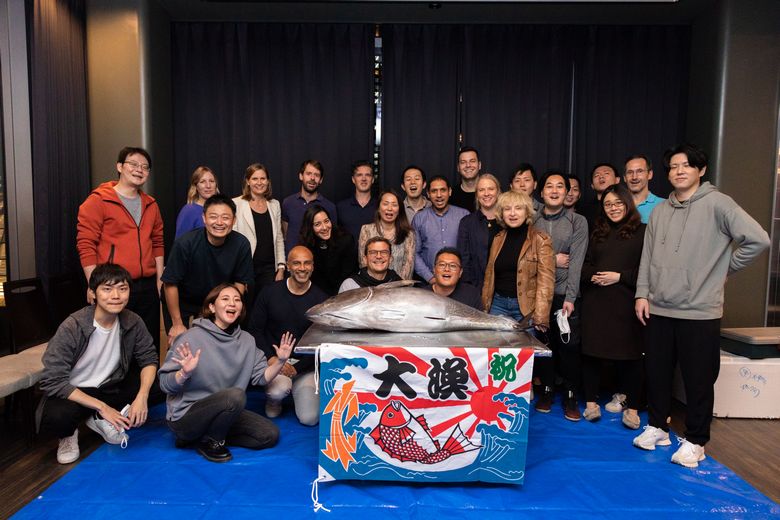 Commemorative photo with a giant tuna
We can suggest the best location for you based on your needs, number of people, budget, and cultural experience. Please contact us for more details.